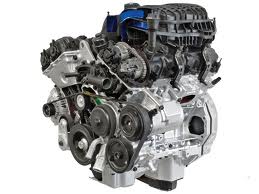 Chrysler developed the PowerTech engine after booming sales of the Jeep Cherokee in the late 80s and early 90s. The 4.7L displacement and SOHC design produced a whopping 235 horsepower and this engine quickly made the Ward's best engines list in the 1990s. Jeep lovers everywhere have felt the power of this engine and millions were produced to meet the increasing demand of Jeep vehicles. The PowerTech was manufactured in V6 and V8 engine versions to ensure that every Jeep produced gave the power and road performance that drivers expected. We have rebuilt Jeep Cherokee engines in stock at the lowest price you can find online.
As Jeep expanded its vehicle inventory, the Grand Cherokee and Jeep Liberty models were produced to takeover for the retired Cherokee. Originally designed in 1983 the Grand Cherokee finally made its debut in 1993 and the rest is Chrysler history. The original AMC design was kept intact and the performance was upgraded to match the expectations of 90s drivers. The high torque and many electronic amenities made the Grand Cherokee one of the first leaders in the truck and SUV market. The 4×4 power is still in use today in the Jeep Liberty and is now one of the longest produced differentials in the auto industry.
Rebuilt Jeep Cherokee Engines for Sale with a 3-Year Warranty
You will find the 4.0L, 4.7L, 5.2L and the newer 5.9L Jeep engine in our inventory. We love Jeep engines and we rebuild them to make it cheaper for you to drop one in your vehicle. There is no need to buy a brand new engine when our engine experts rebuild every one of our used engines from the ground up. We believe that our engine mechanics do the best job for rebuilds that we have ever seen. Our customers have told us the same and we ship hundreds of Jeep Cherokee engines and other rebuilt Jeep engines every month. You will not find a more passionate group of engine experts than our own mechanics.
We warranty our engines with a 3-year no hassle warranty. Our warranty rate is very small, but we fix all problems fast if they do happen. The reason that our warranty coverage is seldom used is because each engine is stripped back down to the block and totally rebuilt. This means that every part is replaced and cleaned to function just like a new one. We deal exclusively in low mileage engines and refuse to buy and rebuild engines that have outgrown their life cycle. All of our Jeep engines are guaranteed to perform just like a new one or we are not satisfied. Our prices are low, support is fantastic and our warranty is just a bonus for our customers.
Get Jeep Cherokee Engines Quotes Instantly
Fill out our engine quote form and get your quote delivered straight to your email. Our engine experts go to work immediately and give you our low price quickly. You can call us at 1-(336) 355-5679 if you have questions about our Jeep Cherokee engines for sale. Don't miss out on our low price. Quotes are free!
Leave a Comment
You must be logged in to post a comment.