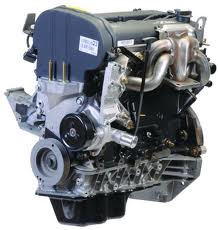 Ford Zetec engines were first produced in the 1980s and early 1990s for installation into passenger cars. The technologies that were added to the production schedule for this engine build set the pace for later development. The small four-cylinder base used to produce these engines was the perfect fit for most automobiles. The standard 2.0 design or even smaller 1.6 editions used in Escorts can be found for replacement at some companies. We're offering all customers a Zetec engine for sale rebuilt to Ford specs.
The consumer edition vehicles like Escort, Focus, Fusion and other builds benefited from the Zetec engine technology. While this series was dropped for the Duratec builds, the ground work was laid by the Zetec for consumer satisfaction. How do you rebuild an engine? The process is long and tedious for even the most experienced rebuilder. We're providing our Ford inventory for instant sale to all U.S. buyers who do not rebuild their own engines.
Reconditioned Zetec Engine with Three-Year Warranty
The DOHC design of the Zetec makes it a perfect candidate for long-term quality. The cast iron cylinder blocks are a step above most four-cylinder blocks used by automakers. Both the U.S. and European installations of the 1.6 and 2.0 motors are based on the CVH design. We're fortunate to have an engineering facility that meets or exceeds the requirements set forth by Ford for rebuilt motors. Each three-year warranty program that we attach with a motor covers the most basic parts failures that can be present during engine ownership.
How much do rebuilt engines cost to ship? A common calculation made by engine buyers is the cost of shipping. While a person can buy an auction engine with free shipping, it is likely these builds offer any type of warranty plans. Our shipping costs are always quoted separately from the cost of each engine. This is meant to educate a buyer of an engine about the cost for freight and the cost of a rebuilt block. We're upfront with pricing and have policies in place to ensure a low sticker price.
Zetec Engine for Sale Price Quote
Have you tried our quotes system? We've built what could be the most advanced price distribution system for engines in the U.S. All quotes take place here online and through our setup toll-free number. All the stress and research that consumers do when locating a Zetec motor online is wiped out here. By inputting the requested data types in our system, we're able to provide an instant 1.6 or up to 2.0 engine price quote instantly. What our team does is manually processing the information to guarantee accuracy. A telephone call to our staff can put you in touch with our engine agents. It takes just a moment to save hundreds of dollars here.